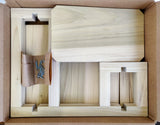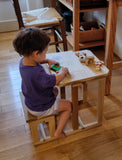 Description
Kids love furniture that's sized just for them. Lightweight, portable, and small enough to fit into any apartment or home, this handmade wooden desk is the perfect place for a child to draw, play, and eat. Suggested for children age 2-4 years old. Made from poplar hardwood, this desk is designed to minimize the chances of tipping over, as your active little kid inevitably climbs all over it. Finished with a light coat of food-safe wax. No dyes or stains.

I designed this desk because my home was too small to fit any of the products I found online. I needed something with just enough space for my 2-year-old, and that was light enough to move from room to room as needed. The open, yet sturdy frame of this desk both keeps it light and gives it a clean modern feel. Kids' furniture doesn't need to be made of chunky pieces of plastic!

Assembly required with screws (included) and handheld Phillips head screwdriver (not included). Easy to follow assembly and care instructions.

14"W x 23"L x 9"H (seat) 17"H (table)

Available in poplar or cherry.
Made by Kirtan Tom.


Include shipping within the U.S. Or choose Local Pick-up for a discount!