Mastering the Chisel
Next Class to be Scheduled
$ 195.00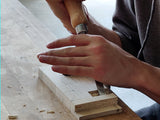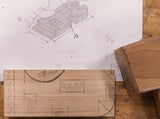 Mastering the Chisel
Next Class to be Scheduled
$ 195.00
Description
Hand-cut joinery, shaping, and cutting out space for hardware all require handling a chisel. Become a chisel wizard with the ultimate cutting exercise: the Gottshall block! The challenge of the Gottshall block is to recreate the given image using only hand tools. Under the skillful guidance of Martin Hernandez, you will complete all layout using a pencil and combination square, and all cutting with only a chisel and a mallet.
All materials and supplies are included. Class is limited to ten students.
This class is 4 hours long and does not include a lunch break, but students are welcome to bring snacks.
Allied Woodshop moved! All classes will be held at 4160 Whiteside Street, Los Angeles, CA 90063. Free parking on site and additional free street parking available.
Health & Safety:
Masking is encouraged but not required during classes. If you have any questions about this policy, please email us at hello@alliedwoodshop.com for a prompt response.

Instructors
Martin Alexander Hernandez is an interdisciplinary crafts person with an emphasis in technical skill mastery and conceptual art.

What to Wear
Please wear comfortable clothing and close-toed shoes. Boots or sneakers are fine and long pants are preferable. Do not wear loose or baggy clothing and please tie back long hair. No dangly jewelry. Please note, this is a woodshop with no AC. You can expect to get sweaty and dusty. Woodworking is hard work!
Gift Certificates
Gift certificates are available. If you would like to gift this class, purchase Woodworking Bucks for the total cost of the class. 
Refund and Transfer Policy
In general, all workshops can be refunded, minus a 10% registration fee, up to one month in advance of the class. Students can transfer to a future class with at least two weeks advance notice. No portion of the course fee will be refunded or transferred less than two weeks before the class start date. To cancel or transfer your spot, please email hello@alliedwoodshop.com.

There are no refunds, transfers, make-ups, or deferments for missed sessions in multi-day classes.
Allied Woodshop reserves the right to cancel a class for insufficient registration.
More Questions?
Please read our FAQs.