Spoon Carving
Saturday, 11/18/23 4pm-8pm
$ 195.00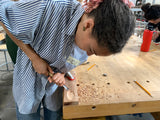 Spoon Carving
Saturday, 11/18/23 4pm-8pm
$ 195.00
Description
Carve your very own spoon with the guidance of an instructor. Students will learn about carving tools and techniques, choosing wood, basic spoon design, as well as fun historical facts about spoons! Make a small spoon just the right size to stir your morning coffee, or one large enough to handle a pot of chili for the family. After you learn how to carve your first spoon with us, you'll only need a few tools to start carving at home! Additional spoon blanks will also be available to purchase.

Total class time is 4 hours and limited to five students.
All materials and supplies are included.
Please note, it is critical that students arrive on time. We cannot allow students who have missed instruction to join the class late. This is a serious safety concern, and we appreciate your understanding.
Allied Woodshop moved! All classes will be held at 4160 Whiteside Street, Los Angeles, CA 90063. Free parking on site and additional free street parking available.

Health & Safety:
Masking is encouraged but not required during classes. If you have any questions about this policy, please email us at hello@alliedwoodshop.com for a prompt response.

Instructors
Each full daytime class includes at least one woman/trans/non-binary instructor.

What to Wear
Comfortable clothing and close-toed shoes. Boots or sneakers are fine and long pants are preferable. Do not wear loose or baggy clothing and please tie back long hair. No dangly jewelry. Please note, this is a woodshop with no AC. You can expect to get sweaty and dusty. Woodworking is hard work!
Gift Certificates
Gift certificates are available. If you would like to gift this class, purchase Woodworking Bucks for the total cost of the class. 
Refund and Transfer Policy
In general, all workshops can be refunded, minus a 10% registration fee, up to one month in advance of the class. Students can transfer to a future class with at least two weeks advance notice. No portion of the course fee will be refunded or transferred less than two weeks before the class start date. To cancel or transfer your spot, please email hello@alliedwoodshop.com.

There are no refunds, transfers, make-ups, or deferments for missed sessions in multi-day classes.
Allied Woodshop reserves the right to cancel a class for insufficient registration.
More Questions?
Please read our FAQs.